Newsletter May 2021

In this edition of the newsletter we highlight our YouTube channel, an opportunity to join our online Plant Science Summer School, a news story featuring "chronoculture" and another to keep your thirst quenched with an accompanying resource.
 As schools have reopened to all students, we understand that teachers may be considering re-capping key topics and getting back to the lab with practical work. To aid this we are highlighting our YouTube channel which consists of core practical demonstrations, post-16 biology demonstrations, biology animations and much more for teachers and technicians. You can click on the some of the titles below to link directly to the demo.
Photosynthesis with bubbling pondweed – this is our latest upload featuring guidance on setting up the bubbling pondweed practical and answering the question why does pondweed bubble? You can download the teaching notes, technical notes and student sheet here.
Photosynthesis and respiration with algal balls - download the accompanying resources here.
Measuring leaf surface temperature - download the student sheet and teacher notes here.
Thin layer chromatography - download the accompanying resources here.
Animations: Transport of water and sugar in plants, Respiration and photosynthesis, and Cell growth, mitosis and differentiation in plants
Flower dissection – download the accompanying resources here.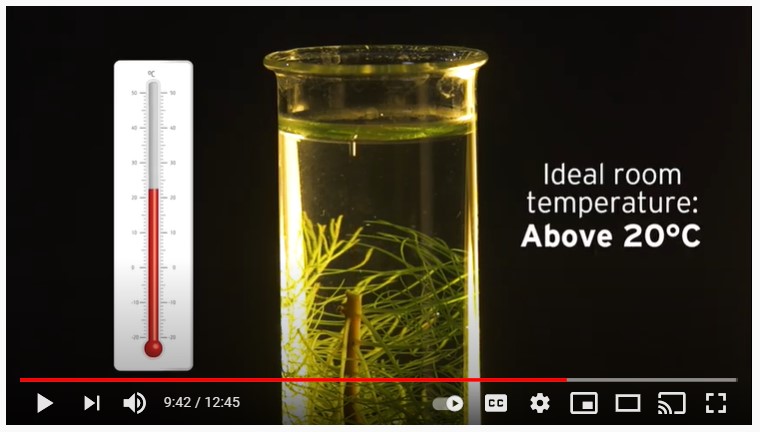 Image: A screenshot taken from the 'Photosynthesis with bubbling pondweed' demo.
SAPS Plant Science Summer School for Teachers (28-30 June 2021)
Are you a teacher of post-16 biology?
The SAPS Online Plant Science Summer School, which is aligned to the Gatsby Plant Science Summer School for undergraduate students, is taking place over three days on an interactive online platform from 28th to 30th June 2021.
You will have the opportunity to learn about contemporary plant science research from world-leading plant scientists and there will be time dedicated for you to ask lecturers about their research as well as explore how this might help you provide context and inspiration for your students. You will be able to discuss the topic's application to the curriculum with other attendees too.
The Summer School is free to attend and is open to all teachers of post-16 students including those who have attended the Plant Science Summer School in previous years.
Session timings:
Monday 28th June to Wednesday 30th June, 10:30-12:30
Lectures:
'Dynamic ubiquitin signalling coordinates transcriptional reprogramming' by Professor Steven Spoel, University of Edinburgh will show how signalling (via modification of proteins) can regulate cellular activity.

'Good crop, bad crop? Increasing sustainability of Oil Palm' by Dr Ed Turner, University of Cambridge will try to address how market demands, plant yields and the environment might be reconciled in a form of sustainable growth.

'Three in the bed: coordinating early seed development' by Professor Gwenyth Ingram, ENS Lyon will explore the process of fertilisation in plants, discussing the roles of signalling and nutrient reserves in seed development.
If you would like to register your attendance, please contact us via the This email address is being protected from spambots. You need JavaScript enabled to view it. providing your name, role and place of work by Friday 11th June.

Thirsty work: Arabica to Stenophylla
Milk and no sugar, please. How do you have yours?
Scientists are looking to future proof a much loved staff room favourite: coffee. As temperatures continue to rise, good quality coffee will become increasingly difficult to grow according to Dr Aaron Davis, head of coffee research at Royal Botanic Garden, Kew. So much so that studies have predicted that by 2050 half of land used for the growth of high-quality coffee will be unproductive. The world famous Arabica coffee (Coffea arabica) has limited resilience to climate change and farmers are already experiencing the impacts of raised temperatures and low or erratic rainfall.
Stenophylla (Coffea stenophylla) the "forgotten" coffee plant is a rare wild coffee that originates from West Africa and tastes remarkably similar to Arabica coffee. The plant was thought to be extinct until it was recently re-discovered growing wild in Sierra Leone where it had been historically grown as a coffee crop around 100 years ago. Dr Davis believes that finding a wild coffee that not only tastes great but is heat and drought tolerant is "the holy grail of coffee breeding".
A small sample of coffee beans were roasted and made into coffee, which was then tasted by a panel of coffee connoisseurs. Over 80% of the connoisseurs could not tell the difference between Stenophylla and the world's most popular coffee, Arabica, in blind tastings. They also modelled climate data for the plant, which suggests it can potentially tolerate temperatures at least 6C higher than Arabica. This level of tolerance indicates that it could make a suitable alternative to Arabica.
Seedlings will be planted this year in order to start assessing the wild coffee's potential in safeguarding the future of high-quality coffee. Dr Davis hopes Stenophylla will one day be grown again in Sierra Leone on a major scale. "It's not going to be in coffee shops in the next couple of years, but I think within five to seven years we'll see it entering the market as a niche coffee, as a high value coffee, and then after that I think it will be more common," he said.
Did you know?
60% of the world's coffee production stems from Arabica

Over 100 types of coffee tree grow naturally in forests

The majority of wild coffee grows in isolated forests in Africa and other tropical climates including India, Sri Lanka, and Australia

Threats to coffee production include extreme weather caused by climate change, pests and disease as well as price fluctuation
To read the article in full, click here.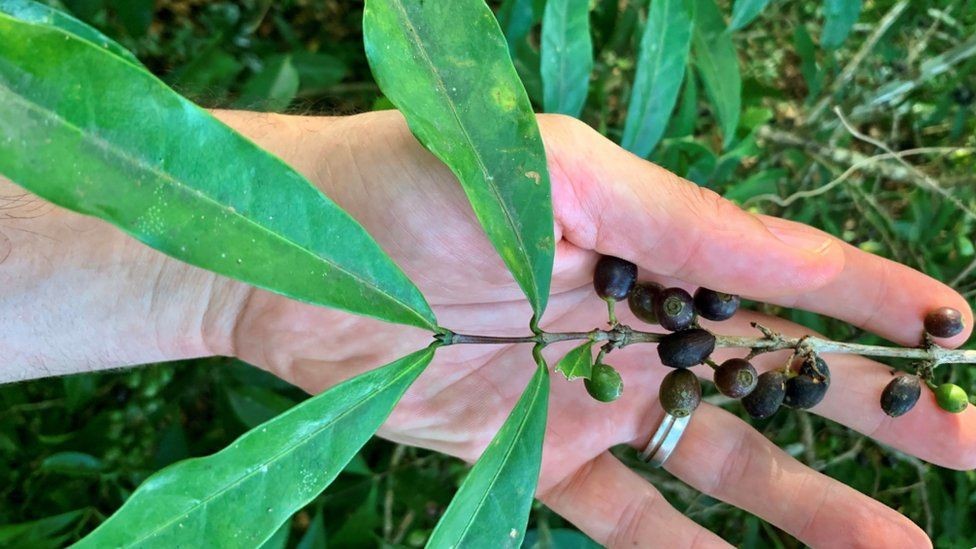 Image: Coffea stenophylla Credit: RBG Kew.

For your students to find out more about the history of coffee and its survival, checkout our 'Coffee history and survival' resource which is part of our collection of interviews with scientists. The 5-minute video interview with Dr Charlie Clutterbuck of Manchester Metropolitan University introduces students to the history and economics of coffee and the impact of a plant pathogen on coffee production.
You can watch the interview and download the accompanying resources here.
Chronoculture: using the circadian clock to improve crop yield 
Like humans, plants have an 'internal clock' that monitors the rhythms of their environment. Scientists at the University of Cambridge and the BASF Innovation Centre Ghent in Belgium say that now the genetic basis of this circadian system is well understood and there are improved genetic tools to modify it, the clock should be used in agriculture too through a process coined 'chronoculture'. It is understood that this process can contribute to global food security.
"We live on a rotating planet, and that has a huge impact on our biology – and on the biology of plants. We've discovered that plants grow much better when their internal clock is matched to the environment they grow in," said Professor Alex Webb, Chair of Cell Signalling in the University of Cambridge's Department of Plant Sciences and senior author of the report.
A plant's circadian clock plays an important role in regulating many of the functions that affect yield including flowering time, photosynthesis, and water use. The genes controlling the circadian rhythm are similar in all major crop plants. This means that the genes are now a target for crop breeders wishing to gain more control over these functions.
The simplest and easiest approach, say the scientists, would be to use knowledge of a crop's internal clock to apply water, herbicides or pesticides at the most effective time of day or night. Drones and sensors could collect round-the-clock data about plant crop growth and their health. This would enable farmers to then receive advice about the best time to apply treatments to their specific crop taking in to consideration factors affecting their environment.
Using water efficiently is key to enhancing sustainability in agriculture. "We know from lab experiments that watering plants or applying pesticides can be more effective at certain times of day, meaning farmers could use less of these resources. This is a simple win that could save money and contribute to sustainability," said Webb.
There are many ways in which the chronoculture approach can be used across agriculture and to make food production more sustainable. For example, in vertical farming and post-harvest too. Vertical farming which is mostly used for leafy greens at present, involves growing crops under highly controlled light and temperature conditions but can also be very energy intensive. With chronoculture and the knowledge of the plants' internal clock and the ability to change it through genetic modification, the lighting and heating cycles could be matched to the plant for highly efficient growth.
Pest damage is common post-harvest but there is good evidence that it can be reduced by maintaining the internal rhythms of the harvested plants. Plants are most resistant to pests at the time of day the pests are active meaning that a light going on and off to mimic the day/ night cycle (in the case of vertical farming / controlled environments) would use the plants' internal clock to help improve storage and reduce waste.
"Chronomedicine", a similar idea to chronoculture is now being applied in human medicine helping to identify drugs that are more effective when taken at a specific time of day. Watch this space!
Read the article in full here.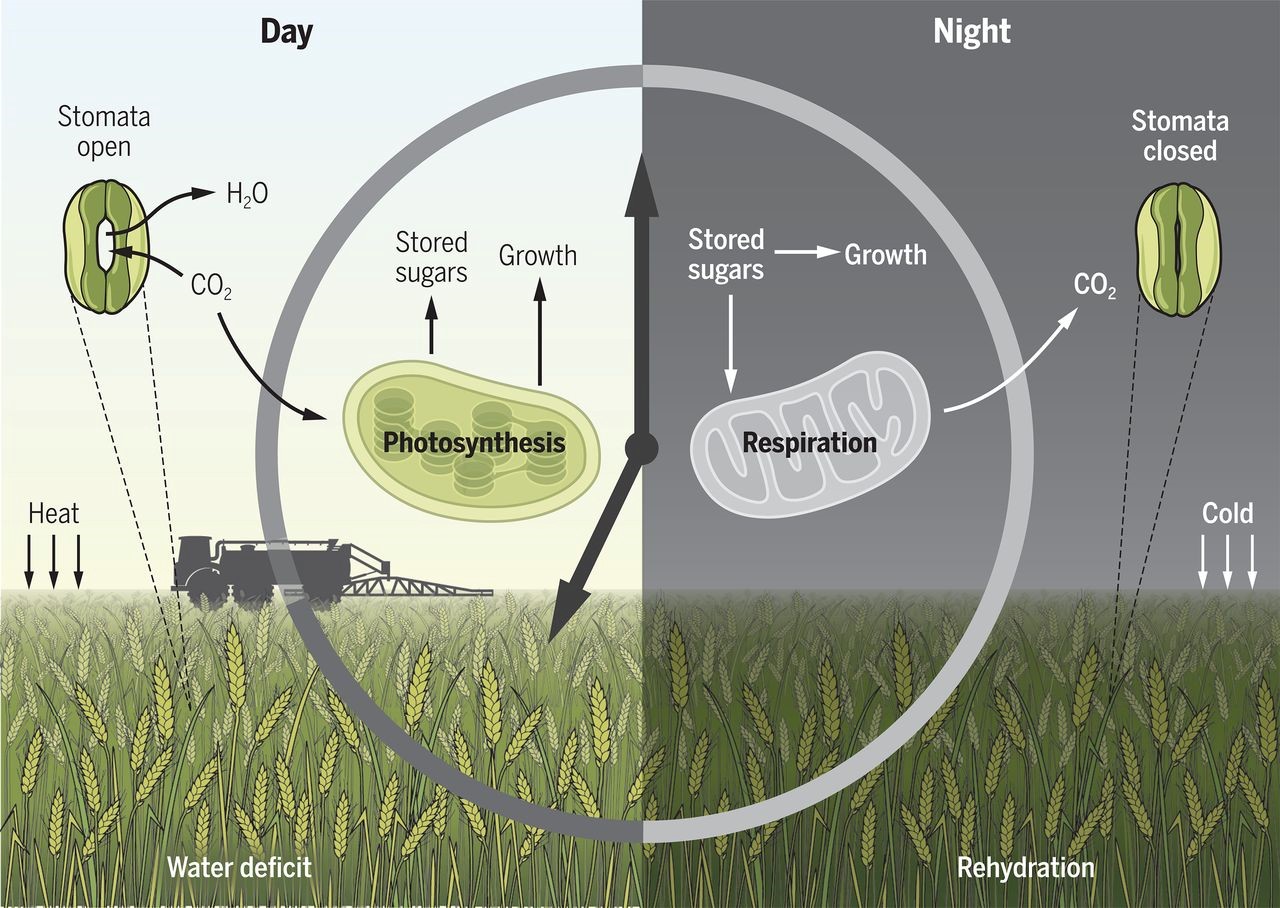 Image: Wheat growing in day and night cycles of light and dark and warm and cold. Credit: Kellie Holoski / Science.
In other news...
Plantlife's No Mow May campaign is asking those lucky enough to have gardens to refrain from mowing the lawn for the month of May (or as much of it as possible) to allow wild flowers to bloom, providing a banquet of nectar for pollinators. You have an excuse and you're welcome!
At the end of the month, on the Bank Holiday Weekend, you can join in with Plantlife's nationwide "Every Flower Counts" survey to discover how many bees our lawns can feed. You will receive your very own "nectar score" (which will tell you how many bees your lawn can feed), and you'll help us all learn more about the health of our nations' wild flowers.
Find out more about the campaign here.