Newsletter March 2021
We really hope that your first few days back in school with all of your students has been enjoyable and rewarding. In this edition of the newsletter we bring you an update on algae, details of a free online course for your 16-19 year old students, a news story on the regulation of plant growth and competition news…
Scenedesmus quadricauda - an update on algae
Unfortunately our recommended supplier of Scenedesmus quadricauda (used in our popular 'Algal Balls' practical) has recently ceased trading. Whilst we are testing them, please This email address is being protected from spambots. You need JavaScript enabled to view it. for more information and keep a look out on social media, in future newsletters and on our website for updates.
For those struggling to obtain a source of algae for the algal balls activity we have a variety of other practical ideas to investigate photosynthesis using pondweeds (looking at rate of reaction varying wavelength of light, light intensity, and measuring volume of gas) see http://saps.org.uk/pondweed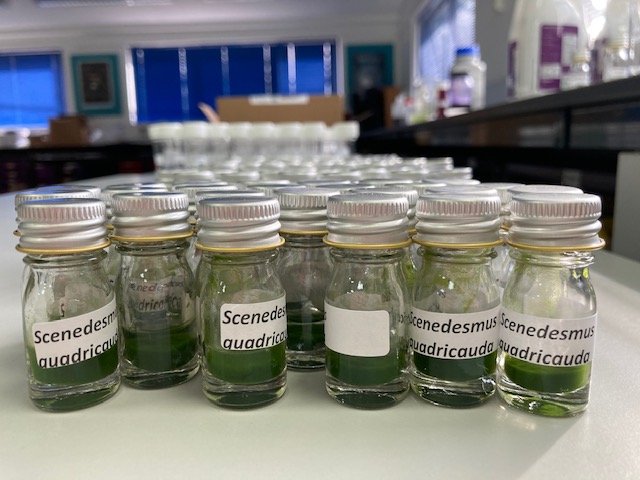 Image: Scenedesmus quadricauda in bijou bottles in preparation for use at our first online Train the Trainer event.


Improving Food Production with Agricultural Technology and Plant Biotechnology – online course for 16-19 year old students

Improving Food Production with Agricultural Technology and Plant Biotechnology is an exciting free online course developed by our colleagues on the Higher Education side of the Gatsby Plant Science Education Programme. Designed to extend beyond curricula, the course takes students on a journey through the plant-based food production system, from growing crops to harvesting and processing them.
You can copy the text below to forward on to your students. Download the flyers here.
The free FutureLearn course, Improving Food Production with Agricultural Technology and Plant Biotechnology, is to run for the 4th time on 29th March for 3 weeks. The course is designed for students of post-16 biology interested in the science behind bringing plant-based food from the field to our plates. It covers three areas - plant biotechnology, agricultural technology and food science - with case studies of innovations that are making food production more sustainable, such as gene editing technologies and agricultural robots. It's a great free resource if you want to boost your knowledge, discover solutions to problems in global food security, and get inspiration for careers. If you're interested in joining or want to share the course with anyone who would be, you can find it here: https://www.futurelearn.com/courses/food-production-agricultural-technology-plant-biotechnology.
The course will be 'live' (i.e. with mentors online to answer your questions) for 3 weeks, but will stay open for a few weeks after that, so you're welcome to take it in your own time too.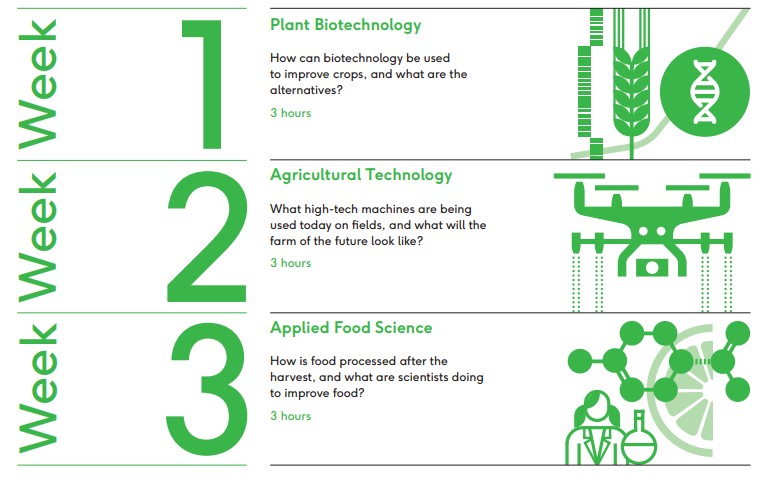 Image: Course topics. Credit: EIT Food.
How a plant regulates its growth and how a herbicide can disrupt it!
We know that plants grow in two directions. Shoots of plants grow towards the light and roots grow towards the centre of the earth but how do the molecular mechanisms work to control these processes?
Scientists at the Technical University of Munich (TUM) have been investigating.
Growth processes are controlled by the hormone auxin, which plays a key role in the formation of polarity in plants. Auxin is transported from the shoot through the plant body into the roots via a family of polar transport proteins. To better understand this process, the researchers investigated it with the help of a herbicide called Naptalam (NPA). Naptalam is the registered name of the chemical Napthylphphthalic acid which inhibits the directional flow of auxin, therefore severely limiting plant growth. It is no longer used as a herbicide within the UK and EU.
Dr Ulrich Hammes, principal investigator, wanted to know how Napatalam exerts its effects. He said, "our studies show that the activity of the auxin transporters is really completely shut down by the inhibitor." When NPA binds to the transporter proteins, auxin can no longer get out of the cell meaning auxin does not spread through the plant and the plant is no longer able to grow polarly. This leaves the roots no longer able to grow to the centre of the earth and flowers and seed formations are disrupted.
"We can now clearly explain the molecular mechanism by which polar plant growth can be disrupted pharmacologically," says Ulrich Hammes.
These new findings make it possible to study polar growth more precisely and therefore better understand the molecular mechanism of auxin transport. To read the article in full, click here.
In other news…
RSB Photography Competition 2021
The Photography Competition is open for entries. This year the theme is 'interconnected' and the RSB are looking for snapshots that highlight interconnectivity of life. Photographs could depict the relationships between living things or a living thing with its environment.
There are two categories in the competition, each with a cash prize:
Photographer of the Year (18 and over) - £1,000 top prize

Young Photographer of the Year (under 18) - £500 top prize 

The competition will close for entries on 23rd July 2021.
For more information, click here and let's get plants featured!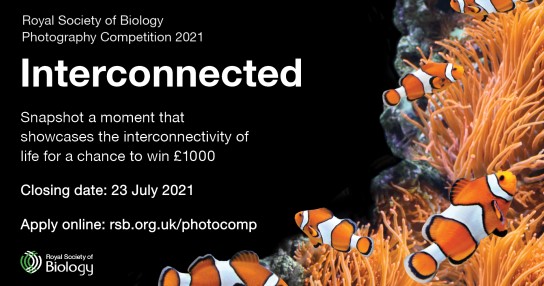 Credit: RSB.
Wishing you a happy Easter break!
The SAPS Team