Newsletter July 2019
In this newsletter we're highlighting free online CPD, news of our Summer School, a chance to win £100's worth of vouchers from our annual SAPS Associate Survey and a fascinating news story about plants mining rock for phosphorus. 
Online CPD. Teaching Biology: Inspiring Students with Plant Science
Image credit: STEM Learning. 
Our brand new online course, Teaching Biology: Inspiring Students with Plant Science launched on Monday 24th June. Over 400 people have registered on the course and you can join them.
Developed in partnership with the National STEM Learning Centre and aimed at those who work with 11-16 year old students, the course explores how plant science examples and practicals can be used to help address misconceptions, link concepts and bring the wow factor to biology.
Hosted on FutureLearn, a free platform for online learning, you will be able to connect with other course participants so you can learn from each other along the way as well as from the course content. The course runs for 3 weeks although you will have access to the course for 5 weeks.
The last day for free course access is Sunday 28th July. You can complete the steps at your own pace whilst supported by the course mentors who will check in each day. Each week's steps are expected to take about 3 hours and you can stop, skip and jump in at any point – perfectly designed for the busy teacher or technician. Anyone can take part in the course and we'd love to see lots of you there.
Why not challenge someone who thinks plants are just for photosynthesis to take the course with you?
Sign up now

.
SAPS Associate Survey - £100 prize draw!
The SAPS Associate survey is vital in helping us make sure that we are doing the right thing for you, our SAPS Associates. The survey results help us shape our future plans and the survey itself should take no more than 10 minutes to complete. We know you're busy so we've got an added incentive: by completing the survey you can be entered into a prize draw to win one of 3 sets of vouchers (£50 from a school equipment supplier and £50 John Lewis per winner).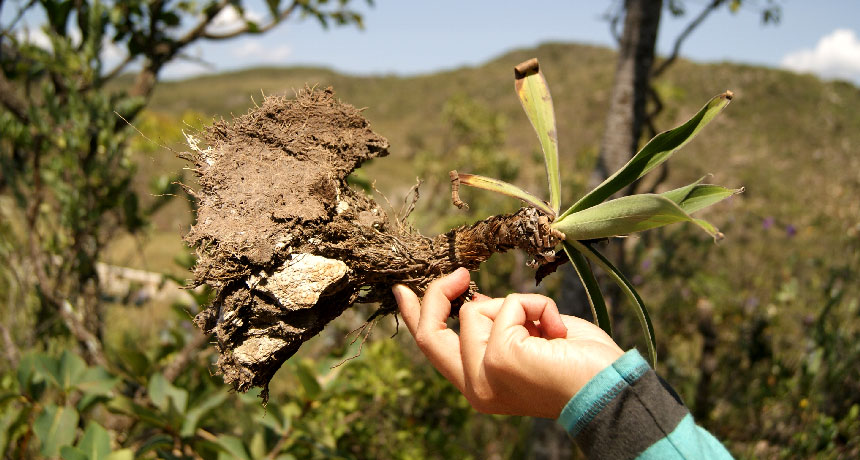 Image: Barbacenia macrantha. Credit: ScienceNews.org
Hairy roots and acid: Soil is not the only answer for plants top access nutrients
Some herbaceous shrubs that live in mountainous regions of Brazil use a combination of hairy roots and the secretion of acid to dissolve rocks and extract phosphorus - a key nutrient that is notoriously hard to extract from the rock in which it is bound. Through this physical and chemical weathering, these plants help shape the rocky landscapes they inhabit. One might expect nutrient-poor environments to be less diverse but the plant ecologists from the University of Campinas in Brazil who work on the study are proving otherwise. Patricia de Britto Costa and colleagues have been investigating how regions with shallow soil and rocky grasslands can in-fact support more than 5,000 plant species which amounts to 15% of Brazil's vascular plant diversity. Put down your trowels and forks, chisels and hammers at the ready!
Read the article in full here.
Plant Science Summer School 2019
We are very pleased to have welcomed four teachers onto our Plant Science Summer School this week. The four day summer school based just outside York enables post-16 Biology teachers to immerse themselves in all things plant science by engaging with expert plant science researchers, taking part in innovative practical sessions and also trying out a few SAPS protocols.
The 'SAPS' Summer School is affiliated with the long- running Gatsby Plant Science Summer School which was developed to inspire undergraduate students and encourage them to consider potential futures in plant science.
Image: Participating in the Plant Identification and Systematics practical. Credit: SAPS.
Best wishes,
The SAPS Team